Alpha and Omega 2: A Howl-iday Adventure
Plot
Kate & Humphrey and their 3 wolf cubs (Stinky, Claudette and Runt) are happily preparing to celebrate their first winter together when their smallest cub, Runt, mysteriously disappears. They must now go on a new journey across the wilderness to find and bring back Runt before the winter snows block their way home. It's their greatest adventure yet, filled with action and suspense as well as plenty of the humour and heartwarming moments that were delivered in the first theatrical release. While their adventure does not end exactly as planned, Kate & Humphrey discover that "Home is where the Family Is."
Release Date
October 8th 2013.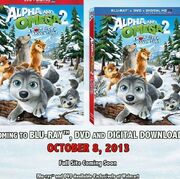 Cast
Vicki Lewis as Eve
Jane Lynch as Terra
Ed Asner as Slash
Frank Welker as Animals' Vocal Effects (uncredited)
Aziz Ansari as Simon Piglet
(Confirmed as of now)
Links
Alpha and Omega 2 Official Website
Sneak Peek Clip
Ad blocker interference detected!
Wikia is a free-to-use site that makes money from advertising. We have a modified experience for viewers using ad blockers

Wikia is not accessible if you've made further modifications. Remove the custom ad blocker rule(s) and the page will load as expected.