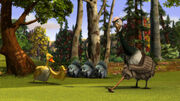 Marcel's favourite sport. He is seen golfing with Paddy, his trusty duck and three Porcupines. They use wooden sticks shaped like golf clubs and smooth-rounded rocks as the golf balls.
In the Movie
The first Golf game was before Kate and Humphrey truly met the old Goose and his friend. They were golfing with three porcupines as the spectators.
.
Ad blocker interference detected!
Wikia is a free-to-use site that makes money from advertising. We have a modified experience for viewers using ad blockers

Wikia is not accessible if you've made further modifications. Remove the custom ad blocker rule(s) and the page will load as expected.