Ian
is a male wolf pup created by/owned by
RockytheEco-pup
. He is the little brother to
Connor
.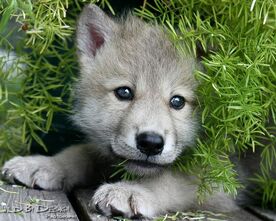 Bio
Coming Soon
Appearance
Ian is a light-gray colored wolf pup. Everywhere but his muzzle and paws is gray fur, the rest is white fur. He has light blue eyes.
Personality
Ian is a fun-loving pup who likes to make friends and always tries to prove that he is tough which doesn't impress his boyfriend. He likes him for his sillyness.
Stories
Alpha and Omega: A New Day Chapter 4
Trivia
He is Connor's little brother.
He is dating a male pup named Darius.
He is an Omega.
He tries to impress the Alphas by acting tough which doesn't work on Darius.