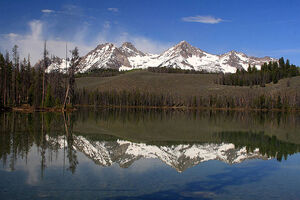 Sawtooth National Wilderness, also is a national park found in Idaho, where Kate and Humphrey were transferred to repopulate, Kate did not like the idea at all, but Humphrey looked pleased by the idea. This is also where Marcel and Paddy make they're first appearance.

.
About the forest
The Sawtooth National Forest was created on May 29, 1905, by the order of President Theodore Roosevelt. It was then called "Sawtooth Forest Reserve" instead of "Sawtooth National forest" And consisted of 1,947,520 acres. It has since been devestated by forest fires, which are thought to have been started by the creators of the film, to spark interest in it.


Ad blocker interference detected!
Wikia is a free-to-use site that makes money from advertising. We have a modified experience for viewers using ad blockers

Wikia is not accessible if you've made further modifications. Remove the custom ad blocker rule(s) and the page will load as expected.