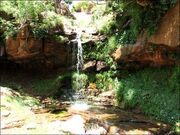 Here is the extension to the Wolf pack role Playing area.
Description
A beautiful small canyon in our territory, this sight is perfect for romantic dates and prommy Moonlight Howls, a waterfall that drops from the middle and a glittering river where it reflects the moon and the stars of the night sky. Lot's of rocky outcrops and lot's a grassy areas near the river as well, when in spring and summer, flowers blossom the whole place, making it more gorgeous.
Here, you can imagine your own favorite Howling spot! This will also be the place where the weekly Moonlight Howl event will be held!