I have a super big question. First of all I really love Alpha and Omega, and this Wiki. Since KateWolf and many of our lead editors quit, I was thinking about something very important, something that I would be so grateful to have. Since I love Alpha and Omega and I love Wikia and this is a Wiki about Alpha and Omega, I was thinking if I could adopt it, because it doesn't have a MAIN leader on it. I would work very hard to keep this wiki safe and informational. Plus what would be better than to have the real Kate wolf in charge of an Alpha and Omega Wiki? I mean come on! What could get better than that? I love this wiki, and Alpha and Omega!!!!!!!! I really hope you think hard about this. Remember to keep an open mind. This would be a great opportunity for me and this wiki! (If you have to contact KateWolf to do this plz someone, contact her or give me the info plz!)
Thank you!
~~the real Kate~Katexx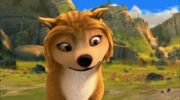 Ad blocker interference detected!
Wikia is a free-to-use site that makes money from advertising. We have a modified experience for viewers using ad blockers

Wikia is not accessible if you've made further modifications. Remove the custom ad blocker rule(s) and the page will load as expected.