Hey everyone! I just want to say goodbye! I'm leaving tomorrow (Tuesday) for Science Camp! I will be online tonight for the goodbye party! It will be on my Goodbye Party Blog page! Also Lilypup, and LilyOmega, will be leaving for Science Camp too! All the users may join! Comment, "I want to host!" down below in the comment area if you want to host! Also say, "I'm going!" if you are going, and if you are not going say "Sorry!" The party will be tonight at 5:00 to 6:30! I will be gone fur four days! I'll be back on Friday! Bye everyone! See you tonight!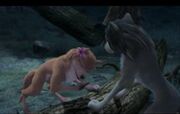 Ad blocker interference detected!
Wikia is a free-to-use site that makes money from advertising. We have a modified experience for viewers using ad blockers

Wikia is not accessible if you've made further modifications. Remove the custom ad blocker rule(s) and the page will load as expected.