IM SO HAPPY, EXCITED AND NERVOUS! IM HEN! (Happy:Excited:Nervous) In my neighborhood they're holding auditions for a play. Can you guess what that play's about? YEAH THATS RIGHT, ALPHA AND OMEGA!!!! I went to Josh, the owner of toy town, and the producer of other plays in our neighborhood like, Wizard of Oz, and Willy Wonka, and put two DVDs in front of him. Alpha and Omega, and The Lion King! He thought about it for like 30 mins when he finally decided Alpha and Omega!!! You might be wondering why he chose a movie that is not as popular as Lion King. Well I asked him that and he said, "I chose Alpha and Omega because, it's different. Because I already made movies that were VERY popular and old, so I wanted to try something relatively new, and not so popular." Ya know what I said to that, "Alpha and Omega was the number one comedy of the year in 2010!" I'm so excited! I'm definetly auditioning for Kate!!! (If you see some unusual activity under my account, just ignore it. It's Josh using my account to get facts for the play. I gave him my username and password.)
Do you think I'll get the part? Check these videos and see if they're good enough for the Kate part:
Kate's Audition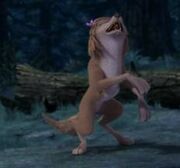 Ad blocker interference detected!
Wikia is a free-to-use site that makes money from advertising. We have a modified experience for viewers using ad blockers

Wikia is not accessible if you've made further modifications. Remove the custom ad blocker rule(s) and the page will load as expected.