Hey everybody, I just want everyone to know that I'm running like a wolf for user of the month!! If you vote for me I will be as Happy as Humphrey and as Silly as Lily! I've seen the other user's of the month and they are usually the admins or the founders! It would be as great as Kate If I could be user of the month! I think you should vote for me because I'm an Alpha's Alpha and I'm Hungry like the WOLF!!!!!!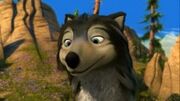 Ad blocker interference detected!
Wikia is a free-to-use site that makes money from advertising. We have a modified experience for viewers using ad blockers

Wikia is not accessible if you've made further modifications. Remove the custom ad blocker rule(s) and the page will load as expected.