Ready your howls! Wait for the moon! It's time to head the to the Howling Canyons of our territory and get the groove on! Wolf-prom, Wolf-date, Wolf-party, the Friday Moonlight Howl! Starting on the coming Friday, get a partner and get ready for a howl!
Hope to see you participate in the Roleplaying part of our pack. :)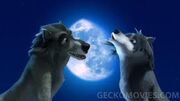 Notes
Since the law that Alphas and Omegas can't howl has been dropped by Kate and Humphrey, your howling partner can be the opposite rank!
Our territory is our own imagination, imagine your best spot if you want!
Don't take it as if it's really a date! It can be just the howling. :)
Our Wolf characters are different from our real selves, so it doesn't matter if you're in relationship!
As told on one of the notes, your wolf character and your real self are two different persons! So relations in Role Play don't count as real!
When the time comes, hope you enjoy the event!
Your best wolf
-AlphaWolfJed
Ad blocker interference detected!
Wikia is a free-to-use site that makes money from advertising. We have a modified experience for viewers using ad blockers

Wikia is not accessible if you've made further modifications. Remove the custom ad blocker rule(s) and the page will load as expected.