On this page you can explain what would've happened if the story line was different. Here is the different story line: What if on the train before Kate runs of to stop the packs from fighting, Humphrey got it all out and said, "I love you." What do you think Kate would say? Explain what you think in the comments section! Have fun!
~Kate(AAK)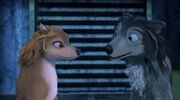 Ad blocker interference detected!
Wikia is a free-to-use site that makes money from advertising. We have a modified experience for viewers using ad blockers

Wikia is not accessible if you've made further modifications. Remove the custom ad blocker rule(s) and the page will load as expected.