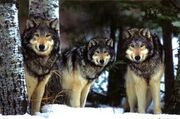 Here is a place to introduce your wolf! Make an Info box about yourself as a wolf! Describe him! What's his/her story? Be creative!
Wolves Introduced
===
Jed

Always on the Watch, Always ready to Howl!

Gender

Male

Martial Status

Single Wolf

Age

3

Rank

Alpha(In training/Second-in-command

Role

Guide(?)

Relatives

Archangel(Pack brother)

Eye Color

Amber

Fur color(Back)

Gray, Dark gray stripe in the middle

Fur color(Underside)

Light-gray/white
===
A dutiful Alpha-in-training who's loyalty is to his pack. Brave, Steadfast and Helpful, but he's still quite a show-off.
.
Ad blocker interference detected!
Wikia is a free-to-use site that makes money from advertising. We have a modified experience for viewers using ad blockers

Wikia is not accessible if you've made further modifications. Remove the custom ad blocker rule(s) and the page will load as expected.